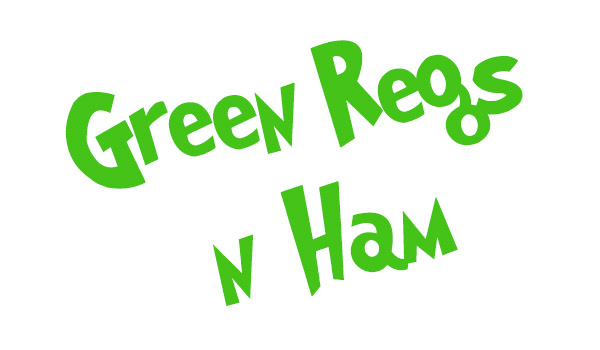 31 Oct

Science and impact assessment: Green Regs and Ham
Science and impact assessment: Green Regs and Ham
THIS EVENT IS NOW OVER.
Here are just a couple of the central ideas in the ELC's Green Regs and Ham event, featuring Dr. Aerin Jacob (Conservation Scientist, Yellowstone to Yukon Conservation Initiative) and Prof. Martin Olszynski (University of Calgary, Faculty of Law) in Calgary.
Science is the foundation of impact assessment, and we have failed to properly build this foundation in our law and in impact assessment practice.   If we improve how science is done in impact assessment we can go a long way to building confidence and public trust in the process. 
Historically, as noted by Prof. Olszynski, the role of science in impact and environmental assessment has not been front and centre.  From the beginning, from the original Environmental Assessment and Review Process Guidelines Order in 1984 (EARPGO) to the Canadian Environmental Assessment Act, 1992 (CEAA, 1992) and through to the revised and reduced Canadian Environmental Assessment Act (CEAA, 2012), there has been no direct mention of science.  Certainly science is embedded in the determination of the significance of adverse effects, whether mitigation measures are technically and economically feasible, and with the repeated but ultimately whimsical  invocation of adaptive management in assessment reports.  However, the building blocks of our impact assessment laws have not been scientific.

Scientists ID assessment flaws

Northern Gateway: "flawed analysis of the risks and benefits"

Site C: "significant gaps and inadequacies"

PNW LNG: "scientifically flawed and represents an insufficient base for decision-making"
This is compounded by the courts showing great hesitance in reviewing how science is applied, notes Prof. Olszynski.  There has been significant judicial deference to how the science was undertaken and considered in impact assessment processes.  The combination of these factors could, in a given instance, lead to a lack of scientific rigour and integrity in impact assessment. This lack of rigor in recent assessments has been identified by numerous scientists.
The integrity of science in environmental decision-making has been a focal point for Dr. Jacob, who has witnessed first hand what happens where the system and a process enable weak science.  In 2016. She led 1800 young scientific researchers to recommend ways to strengthen scientific rigour in environmental assessment.
Dr. Jacob noted that often the significance of impacts are not being identified even when scientific thresholds for valued components are exceeded.  In many cases, thresholds aren't even identified. Conflicts of interest and objectivity of impact assessment reports are also a significant concern.   Science can better foster public trust by the application of five actions:
Seek and act on best available evidence.
Make all* information from impact assessments publicly & permanently available.
Assess cumulative effects from past, present, and future activities across multiple scales.
Prevent and eliminate real, apparent, or potential conflicts of interest.
State explicit decision-making criteria and provide full, transparent rationale of factors considered.
*Some exceptions, e.g., locations of species at risk, Indigenous or community-held knowledge
These actions, supported by young researchers across Canada, are further described here. As well, Dr. Jacob and her colleagues found broad, cross-sector support for these five principles.
The discussion concluded with Prof. Olszynski highlighting how science is integrated into Bill C-69 (the proposed Impact Assessment Act) with references to science in the preamble, the assessment registry (where relevant documents are to be published) provisions, and the creation of a technical advisory committee.  With the support of all parties, Bill C-69 was amended at the committee stages to require the Minister and the Impact Assessment Agency (currently, the CEA Agency) to "exercise their powers in a manner that adheres to principles of scientific integrity, honesty, objectivity, thoroughness, and accuracy."  After being removed in 2012, adaptive management is brought back into the assessment fold by Bill C-69 with the important addition of "adaptive management plans" which should foster a more concerted application of the management principle.
One concludes from the discussion that the role of science in impact assessment appears to be evolving but much more must be done. Transparency and accountability for the science that is applied in the assessment process must increase. Science will not resolve difficult policy decisions but it can ensure greater integrity and public trust in the assessment process. To paraphrase the Lorax "Unless someone like you cares for science an awful lot, science is not going to get better. It's not."
Download a copy of their presentation here
Green Regs and Ham is hosted by the ELC every spring in Edmonton and every fall in Calgary. To learn about future events, sign up for our newsletter or blog notifications (at the top of this page or on the right).  Thank you to Prof. Olzsynski and Dr. Jacob for helping us to better understand the issues of science and impact assessments. Your knowledge, experience and expertise concerning these issues allows us to bring interesting discussions to our supporters.
Special thanks to our sponsors Devon Canada and Burnet, Duckworth & Palmer LLP for providing the financial support for this event and to the 120 people who purchased tickets.
---
ABOUT THE ENVIRONMENTAL LAW CENTRE:
The Environmental Law Centre (ELC) has been seeking strong and effective environmental laws since it was founded in 1982. The ELC is dedicated to providing credible, comprehensive and objective legal information regarding natural resources, energy and environmental law, policy and regulation in Alberta. The ELC's mission is to educate and champion for strong laws and rights so all Albertans can enjoy clean water, clean air and a healthy environment. Our vision is a society where laws secure an environment that sustains current and future generations.
As a charity, the Environmental Law Centre depends on your financial support. Help us to continue to educate and champion for strong environmental laws, through tools such as our blog and all of our other resources, so that all Albertans can enjoy a healthy environment. Your support makes a difference.
Donate online today
---
Share this: