19 Sep

Where to from here? Green Regs 'n' Ham Calgary October 24 2019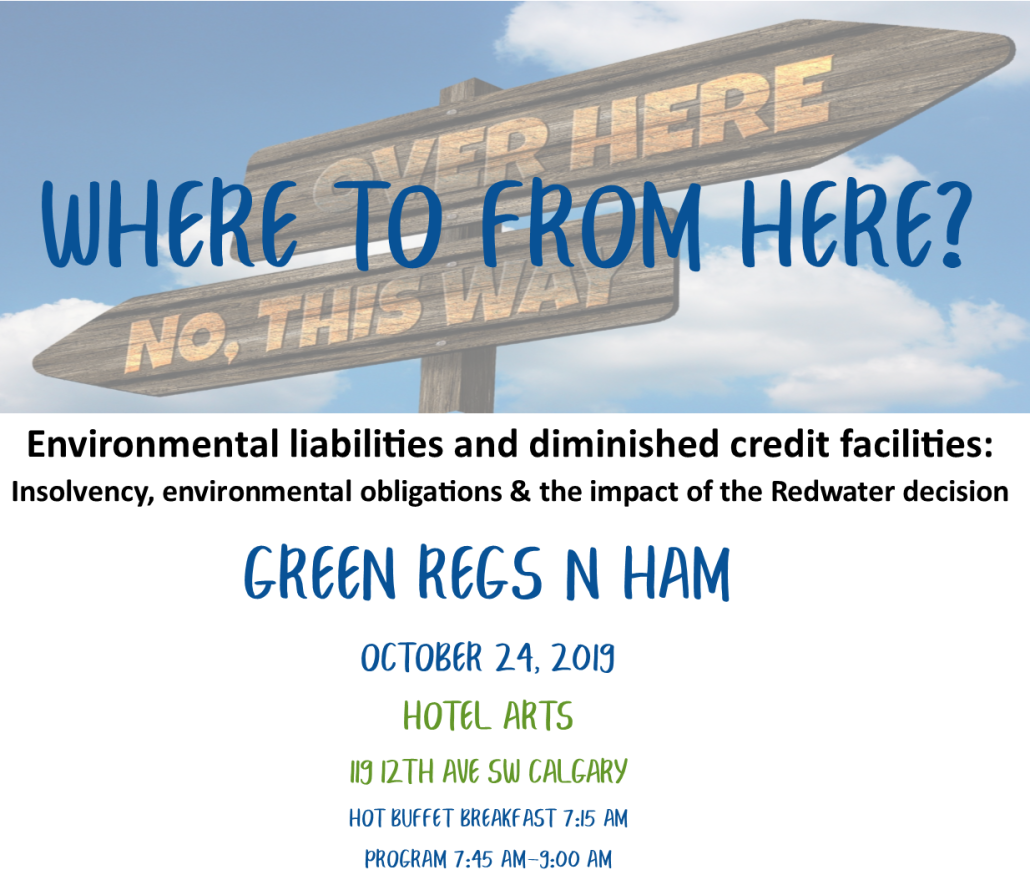 THIS EVENT IS NOW SOLD OUT
Alberta has a crisis on its hands. A mountain of environmental obligations exists across the Alberta landscape.
These obligations take the form of abandonment and reclamation (and remediation) requirements for the oil and gas sector; a sector under a cash crunch. Low resource prices have pushed many firms into insolvency, leaving many outstanding and difficult questions about how the environmental liabilities will be covered, now and into the future.
Join Keely Cameron, Lars De Pauw and the ELC to discuss the legal and practical challenges faced by the industry, the environment, and the public purse. The breakfast discussion will include a review of the impacts of the Redwater decision (Orphan Well Association v. GrantThornton Ltd., 2019 SCC 5 ) and how the province (and the federal government) could respond.
Keely Cameron is an experienced legal counsel with a solid business background. She has a proven track record for finding innovative solutions and generating value. Keely helps clients on both commercial litigation and regulatory matters. Keely has extensive experience on Alberta oil and gas regulatory matters having worked for Alberta's energy regulator for a number of years and has appeared before the Alberta Court of Queen's Bench, Court of Appeal, Supreme Court of Canada, including appearing before the SCC in the Redwater decision. Keely has extensive experience with issues relating to enforcing closure and liability obligations and representing the AER on insolvency files. Keely is a three-time recipient of the AER Regulatory Excellence Award and the 2018 recipient of the Canadian Lawyer Inhouse Innovation award for Litigation Management.
Lars De Pauw is the Executive Director of the Orphan Well Association and has been involved in assessing and managing environmental liabilities in the oil and gas sector for over twenty years.  His current focus is on leading a diverse group of professionals who are handling the recent influx of properties being designated as orphans in Alberta resulting from the current downturn in the oil and gas industry.  A large portion of his time is dedicated to managing the increased volume of properties as well as the substantial increase in funding including a provincial loan that will be repaid by the oil and gas industry.
Prior to joining the Orphan Well Association, Lars worked in the environmental consulting field, the oil and gas service sector and with a large producer.  His work in all three sectors focused on the decommissioning and reclamation of oil and gas assets including estimating liabilities. He holds a Masters of Science from the University of Guelph and is a Professional Engineer.
The Orphan Well Association is an independent non‐profit organization that operates under the delegated legal authority of the Alberta Energy Regulator. Orphan properties are wells, pipelines, facilities and associated sites which have been left behind by defunct or insolvent companies and are designated as orphans by the Alberta Energy Regulator.
Share this: