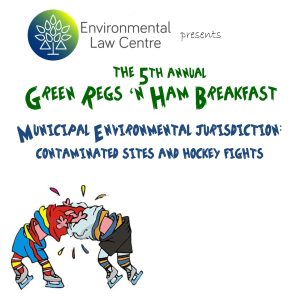 Tuesday, October 3, 2017
University of Calgary
Downtown Campus
910 8 Ave. SW, Calgary
7:00 a.m. Registration and breakfast buffet
7:30 a.m. Welcome and Introduction
7:45 a.m. Panel discussion
9:00 a.m. Wrap up, Coffee and Networking

From orphaned well sites to former creosote plants, municipalities face multiple challenges, legal, financial and practical, in managing and developing contaminated sites.

Plan to join the Environmental Law Centre along with experts in the field to discuss the challenges and opportunities in tackling contaminated site management.

Topics will include the Municipal Government Act, City Charter Regulations, AER's approach to municipal development and other recent provincial developments.